Both previous Epigrams and Roycroft Dictionary Definitions of the Day are available.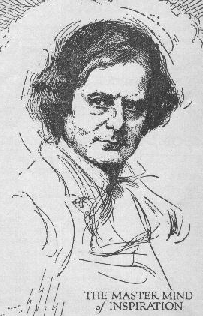 What is Roycroft? It was a handicraft community founded in East Aurora, NY about 1895 by Elbert Hubbard. Hubbard had been a very successful soap salesman for J. D. Larkin and Co. in Buffalo, but wasn't satisfied with his life. So in 1892, he sold his interests in the company and briefly enrolled at Harvard. Disenchanted, he quickly dropped out and set off on a walking tour of England. He briefly met William Morris and became enamored of Morris' Arts-and-Crafts Kelmscott Press.
Upon his return to America, he tried to find a publisher for a series of biographical sketches he had written called "Little Journeys." When he was unsuccessful in his attempts to have someone else publish the works, he decided to print them himself. Thus the Roycroft Press was born. Hubbard proved to be such a prolific and popular writer that fame and fortune soon followed. The print shop expanded and then visitors began coming to East Aurora to see this extraordinary man. Initially, visitors were housed in the printworker's living quarters, but this arrangement soon proved inadequate. A hotel was built to house the ever increasing number of visitors. The inn had to be furnished so Hubbard had local craftsmen make a simple, straight lined style of furniture. The furniture became popular with visitors who wished to buy pieces for their homes. A furniture manufacturing industry was then born. In addition, Roycroft craftspeople were skilled metalsmiths, leathersmiths, and bookbinders.
The community flourished and was at its peak in 1910 with over 500 workers. By 1915, Hubbard and the Roycrofters (as the workers were known) had achieved great success. Not only had Elbert written the inspirational pamphlet, A Message to Garcia, with an estimated printing of 40 million copies, but he was also publishing monthly magazines, The Fra and The Philistine. This was all in addition to an almost constant nationwide lecture series and the monthly publication of additions to the original Little Journeys series that started it all.
It all changed when Elbert and his wife, Alice, were among the fatalities onboard the Lusitania. The Hubbards had been traveling to England to begin an lecture tour when they died. The Community's leadership then fell to Elbert's son, Bert. Though Bert took the Roycrofters to wider sales distribution, changing American tastes led to slowly declining sales figures. Finally, in 1938 the Roycrofters closed shop.
Today, items that were produced by the Roycrofters are highly sought after by collectors. In addition to the collectabilty of the items, examples of Roycroft bookbinding, metalsmithing, and furniture-making are sought simply because of their inherent beauty and craftsmanship.

At the request of an Immortal, when links listed below are updated, a date will be listed so Gentle Readers will be aware when the change was made. This policy will also carry over to the pages themselves, with the exception of the Roster of Philistia, as it is updated every day.
Here at TWOTR, the audience is requested to participate, to the end that there is a sweet flow of soul and a free, frank expression concerning the best of life. In response to all the Divine Heirs who have requested the text of "A Message to Garcia" and "Get Out or Get In Line" be made available, the Fra has complied that the truth might be echoed again and again.
The Fra said "East Aurora is not a locality - East Aurora is a condition of mind." Understandable, but the East Aurora Post Office might argue the point and now there is a videocam of Downtown East Aurory so you can see for yourself in Wheaton what all the Hub-Bub is about. Still, for those seeking more formal directions to this "condition of mind," TWOTR is pleased to have interactive maps available that can point you in the proper direction of Mecca.
A Jewel in the Roycroft Crown is the Elbert Hubbard Roycroft Museum in East Aurora. It's a must-do and see for any Roycrofter, or Arts & Crafts enthusiast for that matter. And tell 'em the Fra sent you.
Roycroft during its heyday was truly a national phenomenon, not solely limited to metro-East Aurora. So whenever the Fra-in-Charge travels across the U.S. on business or pleasure, he always keeps an eye peeled for All Things Roycroftie. He believes it would prove interesting to all Members of the Elect to have a list of Roycroft "Points of Interest". It might be a monument, a hotel or Lord knows what. Think of it as a national Roycroft tourist guide.
Make your own Missionary Move by sending someone you care for a Roycroft e-mail postcard. You can choose from an ever growing list of genuine Roycroftie color postcards. Loyal Roycroft workers are standing by to transmit them as a matter of second class, free of charge. First class e-mail delivery is automatic and gratis for Members of the Elect.
Save yourself tears, fears, doubts, gooseflesh and heartburn. If you have questions about anything Roycroftie, we have most of the answers.
If you would like to Rest, Read and Recreate in a Beautiful, Comfortable, and Unique Environment, here are some postcards of the Campus and surroundings. Enjoy the Scenery!
There are Brethren outside of the Society of Philistines, so a page of Arts & Crafts related websites has been set up for your browsing pleasure. If you know of some that aren't listed here, please drop the Fra a note.

So here then are thoughts and thoughts that are the ripe grain of well winnowed experience. But thoughts being in the air are the possession of whoever can seize them, so some of the thoughts herein writ have been expressed before - but not so well. And if the Gentle Reader is minded to smile as he reads he has a perfect right so to do, or to sneeze if he so feels called upon. Send smiles or sneezes to the Fra-in-Charge. Subscribers not fully understanding his jokes will be supplied laughing-gas at club-rates.

This page is updated every little while and published daily. Head, heart, and hand were used in its crafting.